In a post-pandemic world, remote work is here to stay. With the uptick of more people working from home, finding work/life balance can be tricky, leading to employee burnout. Although remote work has its benefits, there are challenges you can overcome to maintain wellness while working remotely.
Remote Work Challenges
With a workforce working in the comfort of their home, some may find it hard to adjust if they are used to an office environment. Specific challenges occur with remote environments that some might not have thought of before. Here are some challenges remote workers may face:
•Isolation
•Harder to build a connection with colleagues
•Total dependence on technology
•Blurred boundaries between work and home
•More pressure to prove your worth
•May fall into unhealthy eating habits (ordering uber eats!)
Ignoring these challenges can lead to a higher probability of burnout, which is self-sabotaging to your job success.
Burnout in Work Symptoms
According to the World Health Organization, occupational burnout is a chronic buildup of stress that is not managed correctly. The symptoms include:
Lowered productivity
Feelings of exhaustion
More time away from work
Negative or a cynical attitude about work
Low satisfaction from achievements
Combined with the challenges in a remote environment, not addressing this burnout will lead to other health issues like heart disease, substance abuse, susceptibility to illness, or insomnia.
How to Maintain Wellness Working at Home
Incorporate Physical Activity
Now that you don't have to drive to work every day use the time you spent commuting with a scheduled workout. Schedule the workout for an uninterrupted period during that hour you gained. In addition, stand and move during your meetings. If you find yourself in back-to-back calls, break up the monotony and help you focus better. Here are some great desk exercises you can do sitting down 7 Simple Upper Body Desk Exercises To Do While Working At Home.
Make time for Healthy Habits.
I know we get caught up sitting in front of the screen and take the quick way out when it comes to eating healthy. Make it easier on yourself by preparing healthy meals and snacks. This will give you more energy to focus and help you get through that afternoon slump. In addition, don't forget to hydrate. Have a big water bottle to remind you to drink throughout the day.
Set Boundaries
Working from home can cause blurred lines between work colleagues and family members. It's easy to get distracted when family members are home, or there are responsibilities around the house. Communicate a clear schedule of when you are available to do home responsibilities vs. work tasks, and possibly remove yourself from view to avoid distraction.
As far as work colleagues and clients, the message is the same. Avoid feeling like you need to work beyond regular business hours if it is not an emergency. Yes, there will be times where you have to work past your normal day, but it should not be a regular thing.
Set your work schedule and stick to that schedule. Communicate your work boundaries, and any concerns you have feeling overworked with your manager. Set your schedule in the designated email service, and don't forget to use out of office messages if applicable. Once you allow people to rely on you to be available whenever, it is hard for them to break that habit.
Create a Good Work Environment
Prepare for the day
Set yourself up for success by preparing yourself and space for the day. Sometimes it's easy to roll out of bed and get right to work, but it's better to put yourself in a working mindset. When you create structure, taking on responsibilities and managing tasks is more effortless. Create a morning routine. Exercise, shower before work, and get dressed for the day. Set an intention for the work day and a small goal to accomplish every day.
Make your space Zen
Your work area should be conducive to your needs and ergonomically safe. We sit for 8-9 hours a day, so we want to ensure our bodies and minds are well. Set up the space with eye-pleasing décor that puts you in a positive mindset. It should be separate space in your home that is set up for work. Have furniture you feel comfortable with, whether it's a standing desk or a chair that promotes good posture.
Take Time Away
The best way to combat burnout is to take time away. Americans are notorious for overworking themselves, leaving PTO on the table. Even if you do not have anywhere to go, take time to decompress from the pressures at work. Do something away from the house, like go for a hike or a local staycation when you feel agitated. Taking time away will help renew your creativity and job outlook.
Other than PTO, consciously leave your house and work area every day. When we are in the office, we can physically separate ourselves from work when we go home. At home it's always within reach causing us to feel pressured to overwork. Don't go all week without leaving the house. Schedule a nail appointment, workout, or time with friends to get a different perspective.
Connect virtually with others
I tend to thrive in isolated environments because of my introverted personality. But many people need human interaction to feel motivated at work every day. Connect with a co-worker with similar job tasks to help you be accountable and act as a source of release when you are feeling stressed. Having that daily interaction (and laughter) can build a sense of belonging and satisfaction avoiding burnout.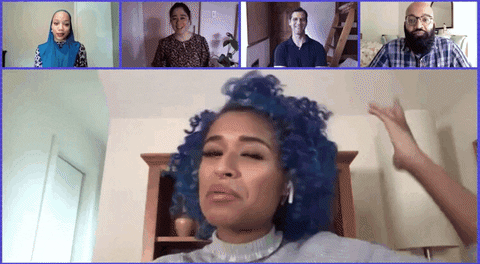 If you are a manager, consider incorporating virtual team-building activities to keep cohesiveness with your staff. Schedule non-work-related virtual coffee breaks to give people an excuse to take a break from work and redirect their thoughts to something fun. Check-in with your team members who appear to be struggling with their productivity or attitude at work. Offering compassion instead of assumptions will go a long way.
Utilize Mental Health Recourses
Check-in with your mental health, whether taking mindful breaks throughout the day or utilizing your company-provided EAP. If you find the stressors on the job still hard to manage, it's essential to speak to a professional. Most companies offer employee assistance programs that give their employees access to free sessions with a licensed professional. It's okay to ask for help when you need it, and a professional can tailor specific coping skills for burnout based on your situation.