The tourism industry is always looking for the next big thing – and it seems that wellness travel is it. With more and more people searching for ways to relax and rejuvenate, it's no surprise that wellness travel is on the rise.
Wellness travel is about taking a break from the stresses of everyday life and focusing on your health and well-being. It can take many forms, from yoga retreats to luxury spa breaks. Whatever your budget or preference, there is sure to be a wellness travel option that is perfect for you.
If you want to improve your well-being and mental health, read on to learn more about why wellness travel is the next big thing!
Table of Contents
What is Wellness Travel?
According to the global wellness institute, wellness travel is a type of tourism that focuses on improving one's health and well-being. This is not to be confused with medical tourism, where people travel to different countries to receive treatment at a more affordable price. Wellness tourism seeks to prevent disease and improve quality of life.
Rather than the traditional sightseeing and beach vacation, wellness travel indulges the mind and body with activities such as yoga, meditation and holistic treatments such as massage and reiki. It can also include active travel experiences like hiking, cycling, or surfing. Wellness vacations come in many different forms, but ultimately the goal of wellness travel is to help you return home feeling refreshed and rejuvenated. Whatever your preference and budget, there will surely be a wellness trip with something perfect for you.
The Benefits of Wellness Travel
Wellness travel has a variety of benefits for those who take part. Because of the global pandemic, people have started to pay more attention to their holistic health, and the need to travel has increased since the world opened up. Wellness travel is enticing because it encourages you to take time out to focus on yourself and your well-being. This time away can help you to gain a fresh perspective on life and your overall health needs. Many people report feeling more relaxed, energized, and motivated after taking part in a wellness journey boosting their motivation while improving their sleep.
Popular Wellness Travel Destinations
Wellness travel options can be found worldwide, with the most popular destinations being Bali, India, Thailand, and Hawaii. Each place has its distinctive charm and offers various activities for wellness seekers. Bali is known for its stunning beaches, as well as its vibrant culture and unique opportunities for yoga and meditation. India is home to various ancient spiritual practices, from yoga to Ayurveda. Thailand offers plenty of luxury retreats, spas, and jungle excursions. And Hawaii is ideal for anyone looking for a tropical destination to relax and recharge.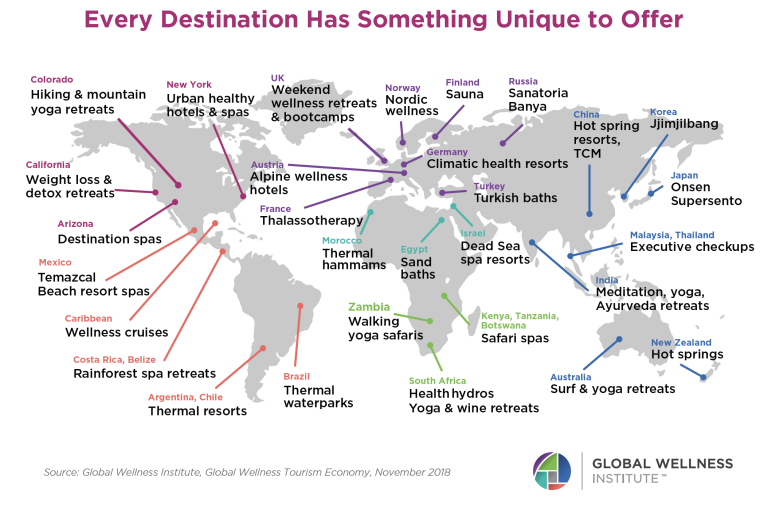 How to Get Started with Wellness Travel
Wellness travel is about taking time for yourself, which can be as straightforward or as elaborate as you like. The most important thing is researching and finding the right destination, activities, and accommodation for your needs. There are even trips explicitly designed for wellness purposes. Many popular wellness packages now include flights, accommodation, and activities, so look into those options if you plan a trip.
Tips for Planning a Wellness Trip
Think about the type of wellness tourist you are. According to the Global Wellness Institute, two types of wellness travelers exist. The primary wellness traveler's main motivation is wellness when booking a trip. The secondary wellness traveler incorporates wellness into a trip, like taking a spa day in the middle of a group trip.
When planning a wellness trip, it's essential to consider your budget and be realistic about what activities you can participate in. Wellness, although beneficial, can be pricer. If you are looking for a primary wellness trip, think about what type of accommodation you prefer, as this will impact the overall cost. It is also essential to factor in additional costs, such as transportation, meals, tips, and incidental expenses.
For a secondary wellness traveler, look for activities that serve your wellness needs. Ask yourself, is there a local wellness custom they are known for? For example, turkey is known worldwide for their Turkish baths. Figure out the best time for you to incorporate the activity into your itinerary stress-free. Read reviews and recommendations for your destination to ensure you get the best out of your trip.
The Future of Wellness Travel
According to a report by Grand View Research, the global wellness travel industry is valued at $814.6 billion and is estimated to reach $1.02 trillion by 2030. More and more people realize the health and well-being benefits of taking time out of the everyday hustle and bustle. If you're looking for a way to relax and rejuvenate, why not try wellness travel?